Book Reviews of Heavy Laden: Union Veterans, Psychological Illness, and Suicide (2018), by BBI colleagues Larry Logue & Peter Blanck
October 29, 2019
Nofi editor at  StrategyPage The News as History Reviews Logue and Blanck, 'Heavy Laden: Union Veterans, Psychological Illness, and Suicide'
Author:  Larry M. Logue, Peter Blanck
Reviewer:  A. A. Nofi, Review Editor
Larry M. Logue, Peter Blanck. Heavy Laden: Union Veterans, Psychological Illness, and Suicide. Cambridge Disability Law and Policy Series. Cambridge: Cambridge University Press, 2018. 278 pp. $110.00 (cloth), ISBN 978-1-107-13349-5.
Full Version: https://www.strategypage.com/bookreviews/17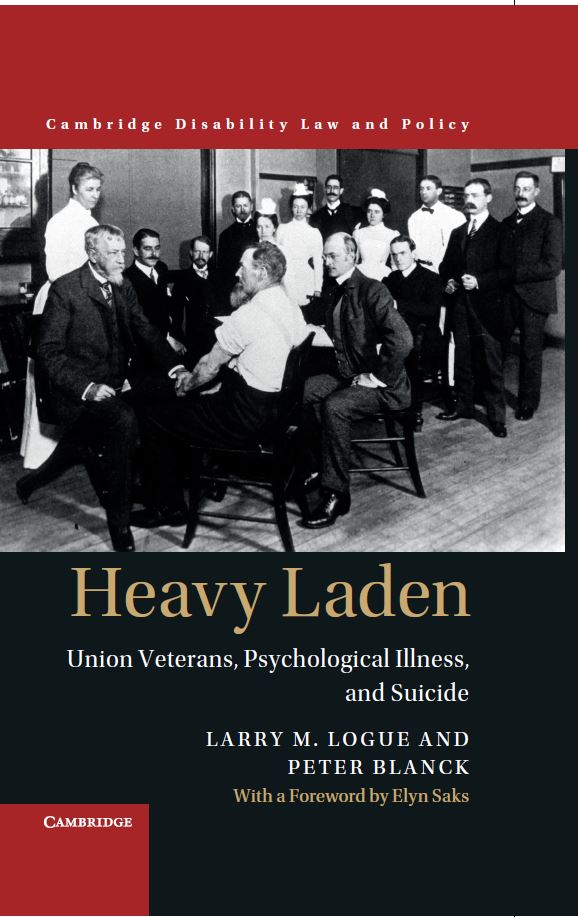 Veterans of the Civil War were perhaps the first to draw attention to the possible psychological consequences of combat. At the time, veterans with psychological problems, including criminality, alcoholism and addiction, violent behavior, and suicide were attributed to "nervous trouble", "nostalgia", "soldier's heart", and other vaguely defined conditions which are now known as post-traumatic stress disorder.
In this work, the authors, respectively the Senior Fellow and the Chairman of the Burton Blatt Institute at Syracuse University, devoted to the advancement of persons with disabilities, examine the effects of the war on a sampling of Union veterans, both black and white, with particular attention to the suicides now recognized as a frequent result of PTSD.
Their results, bolstered by an impressive mass of statistics, indicate that veterans had a notably higher suicide rate than men in the same social cohorts who had not served. Moreover, men who had been injured in combat or who had undergone the ordeal of being prisoners of war were even more likely to commit suicide than veterans who had been wounded or imprisoned.
While they uncovered these grim statistics, Logue and Blanck also found that veterans were more likely to be unmarried or have marital problems, more frequently suffered insanity commitments, and even were relatively less wealthy than non-veterans, though oddly African-American veterans appear to have been somewhat more prosperous than black non-veterans.
Heavy Laden, a volume in the "Cambridge Disability Law and Policy Series", is an important read for students of veterans affairs, throwing fresh light on the problems that still affect those who served.
Kathryn Shively Meier, Journal of Interdisciplinary History reviews Logue and Blanck, 'Heavy Laden: Union Veterans, Psychological Illness, and Suicide'
Author:  Larry M. Logue, Peter Blanck
Reviewer:  Kathryn Shively Meier Virginia Commonwealth University
Larry M. Logue, Peter Blanck. Heavy Laden: Union Veterans, Psychological Illness, and Suicide. Cambridge Disability Law and Policy Series. Cambridge: Cambridge University Press, 2018. 278 pp. $110.00 (cloth), ISBN 978-1-107-13349-5.
View Online Version: https://muse.jhu.edu/article/732442
Logue and Blanck ask, Did Union veterans suffer lasting psychological consequences from the Civil War, or were they largely able to reintegrate into society? In answer, they present an intricate tapestry of postwar trauma, citing multiple origins from wounds, disease, racial and eco- nomic inequalities, and wartime incarceration. They observe varying manifestations of mental strain over time, among black and white veterans alike. Their work has broad appeal for the social sciences, humanities, and a popular audience.

The authors address a controversy originally framed in the field of Civil War history, which pits historians who argue for widespread evidence of post-traumatic stress disorder (PTSD) among Civil War soldiers against those who find the application of a post–Vietnam War diagnosis to be anachronistic. Seeking resolution, the authors adopt an interdisciplinary approach, employing statistical analyses of the Early Indicators Union Army data set (based on the compiled military service records, pensions, carded medical records, surgeon certificates, and the census for 39,000 white soldiers and 15,000 black soldiers) and the Integrated Public Use Microdata Series (based on U.S. census data). The Early Indicators project, begun by Robert W. Fogel in the 1990s and currently directed by Dora L. Costa, has been underused by those seeking to understand Civil War veteran life cycles. Its inclusion enables new in- sights into race, the experiences of prisoners of war, and veterans in old age. In addition, the authors draw from personal accounts, soldier's home records, Freedman's Bureau records, hospital files and registers, government reports, and newspapers.
This robust mix of sources allows the authors to portray complexity, illuminating multifarious contours of veteran mental health. Using a data set from Massachusetts, they demonstrate that individual veterans sometimes proved resilient and sometimes suffered acutely from diseases and wounds, homelessness, or joblessness. While admitting that the meanings and causes of suicide can be difficult to discern, Logue and Blanck discover an "elevated risk of suicide among veterans pensioned for wartime disabilities," and a higher rate of overall veteran suicide compared to civilians (151). The experiences of white and black veterans also varied considerably. White veterans were poorer than white civilians, but, as the authors suggest, the same men might have been poorer before the war; black veterans acquired more wealth than their civilian counterparts by 1870. Though the historical record appears to reflect that black veterans suffered fewer psychological disabilities than did white veterans, the authors explain how social factors—such as black men's avoidance of soldiers' homes and their later access to pensions—makes tracking their mental illnesses difficult. Soldiers who survived incarceration at Andersonville prison were more than twice as likely to be diag- nosed with mental illnesses than were their peers. In short, the authors convincingly conclude that Civil War veterans "were laden with a distinctive [psychological] burden" (215).

Logue and Blanck hope to put to rest the "PTSD–not PTSD dichotomy," by arguing that soldiers suffered from "an equivalent to PTSD" (206–207). There is, however, no need to resolve what is a healthy methodological debate within the historical discipline. Indeed, the authors end in agreement with scholars who seek evidence of PTSD in the past, even though they might not fully understand the complaint of those who do not. Clarke best exemplifies the nature of the dispute in her explanation of the Civil War–era diagnosis of nostalgia, or potentially fatal homesickness: That Americans "could settle on nostalgia as a primary source of wartime distress among Civil War soldiers points not to a timeless psychological response to battle but towards the shifting emotional experiences that wars generate."1 Thus, Clarke holds that each society, in its own context and according to its own vocabulary, understands and produces different symptoms, illnesses, diagnoses, and treatments. Regardless of Logue and Blanck's conclusions about PTSD, however, their expansive source base, illuminating demographic com- parisons, and nuanced portrait of the distinctive burden that Civil War soldiers had to bear are impressive.